untaianberita
Jakarta - Bencana alam yang bertubi-tubi dan menelan ratusan korban jiwa menarik simpati orang-orang dari belahan dunia lain. Mereka pun berdoa untuk Indonesia.

Gempa bumi yang berujung tsunami lalu letusan Gunung Merapi mendorong pesohor dunia menyampaikan perhatiannya lewat twitter. Lewat #prayforindonesia beberapa selebritas dunia mengajak orang-orang berdoa untuk Indonesia, misalnya saja:


Justin Bieber (penyanyi)
just found out about the earthquake in Indonesia. everyone please pray for the people there. #prayforindonesia

Joel Madden (penyanyi grup Good Charlotte)
@JoelMadden: Indonesia I love you be strong (vokalis Good Charlotte)

Tom Cruise (aktor)
To keep track of events & help in Indonesia http://ping.fm/KObTD #prayforindonesia Thanks4Link @aldoturangan

Kim Kardashian (aktris)
My heart goes out to all those affected by the quake and the volcano eruption in Indonesia #lifeisprecious #prayforindonesia

Rabu, (27/10/2010), 07.00 WIB, #prayforindonesia menjadi trending topic di situs microblogging tersebut.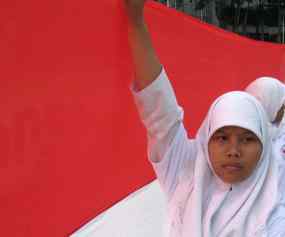 Gempa bumi yang diikuti tsunami telah mengakibatkan sedikitnya 113 orang tewas dan 502 hilang. Letusan Gunung Merapi untuk sementara sudah menewaskan 19 orang.